Activation for Mac
How to Log In UniConverter with Wondershare ID or Registration Code?
Click the Log In button to log in and use UniConverter. You can log in using Wondershare ID with Password (The email address you purchased/signed up Wondershare UniConverter Licensed Email with Registration Code (The information you have purchased Wondershare UniConverter before December 9, 2019). Enter you information and click on the Log in/Register button to continue using Wondershare UniConverter on your Mac.
Note:
1: If you purchase Wondershare UniConverter after December 9, 2019, your purchased E-mail address is your Wondershare ID.
2: If you purchased Wondershare UniConverter before December 9, 2019, then you have the old License E-mail and Registration code.
Both accounts are available now, but we recommend that you'd better to upgrade your license E-mail to Wondershare ID (click here to upgrade for free).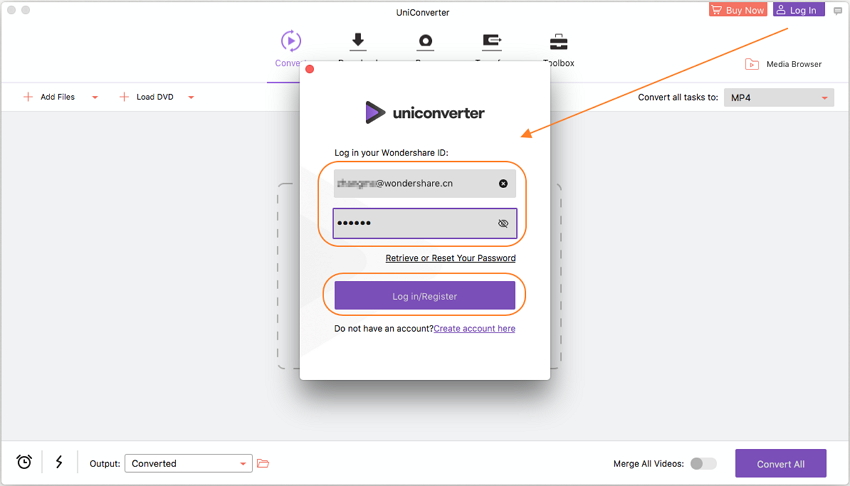 After log in successfully, you can view your account information with email address, current plans, and several account options.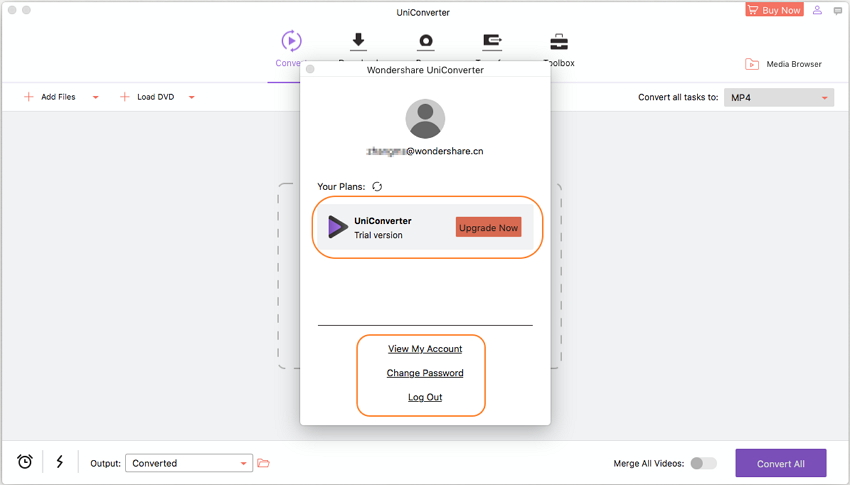 Upgrade Now: Click the Upgrade Now button to purchase Wondershare UniConverter or upgrade your current plans.
View My Account: Click this option to open the Account Center page, from where you can view your account details and manage your purchased products.
Change Password: Change your Wondershare ID password for Wondershare UniConverter for Mac by clicking on this option.
Log Out: Log out your current Wondershare account for UniConverter on Mac.
Pack Up
How to Sign Up Wondershare ID New Account?
What Can You Do With Wondershare ID
What can I do if I didn't get a Wondershare ID?
How to Reset Password if I Forget it?
Why it Says Wondershare ID Already Exists?
What does the "Redeem" Function do in Wondershare ID Account?
What shall I do, if the registration code is invalid?
What can I do if my Wondershare UniConverter fails to update?
I have paid for the Wondershare UniConverter for Mac, but why it still shows unregistered?